University Guidance
Applying to University
The first part of this process is undertaken when you choose your A-Level and/or BTEC options. We always interview applicants so that the student's aspirations can be matched to the subjects that they choose to study in Sixth Form.
UCAS
During Year 12, students should be starting to narrow down choices for study after Sixth Form. They must take into account predicted grades and current performance in modules or coursework.  (When applying for University either the AS grades achieved or the teachers professional predictions will be likely to form the basis of predicted grades, and that Universities will compare the AS grades with the predicted A2 grades in considering whether to make an offer.)  Usually, a student is able to apply for 5 different degree courses, and this is done directly through UCAS.com (https://www.ucas.com/)
How to apply to UCAS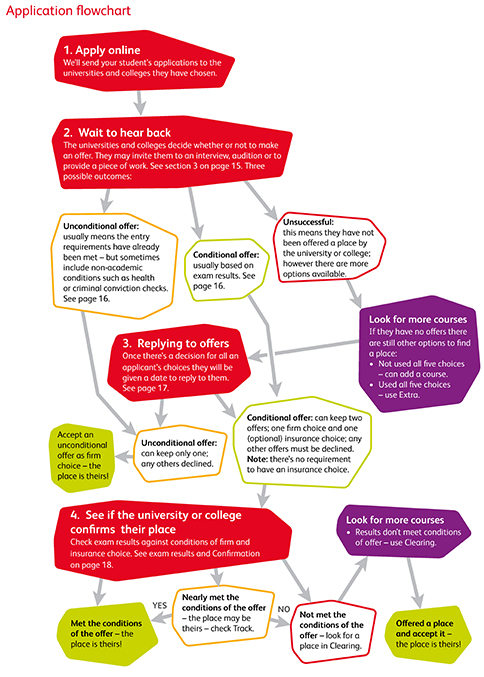 Normal Procedure:
Summer Term Year 12/Autumn Term Year 13:  
Subject Teachers write a reference for each student; these are collated for the Form Tutors. Also included are current results (eg AS grade or BTEC level) plus a predicted grade.

Students log in to UCAS and enter basic details (eg, name, address, …). Start to plan your personal statement.
Summer Holidays:  
Research Universities offering the degree that you are interested in. Attend open days and continue filling in the UCAS application form along with drafting a personal statement.
Autumn Term Year 13:
Students should have selected their degree course and have narrowed down the Universities to whom they intend to apply. They will equally have completed numerous drafts of their personal statements and sought advice from teachers, tutors and the Sixth Form Team.
Once the student has chosen which courses and Universities to apply to, there are some specific deadlines (please note that it is in your interest to apply early, as some courses begin short-listing as soon as they receive applications, and may have to stop short-listing before the official closing date as they have already met their quota of offers that they are allowed to make).
Mid-September:
Students submitting applications for Oxbridge, Dentistry, Medicine and Veterinary Science.
This allows one month for your Tutor to write your reference and for your form to be proof-read by the Sixth Form Team.              
Mid- November to Christmas:
All other applications submitted.
This allows 1 month for Tutors to get all references written and for all applications to be proof-read by the Sixth Form Team. 
Throughout all of this the Sixth Form Team are here to support students via email or face-to-face meetings and careers guidance sessions.